Hello! My name is Mrs Venables and I will be your Class Teacher in September. Although I already know many of you, I thought I would tell you a little about myself. I am married with two teenage children and also have two cats 'Fizz' and 'Pip'. I love spending time with MY family enjoying outdoor activities such as camping, canoeing and skiing. If I manage to find time to relax I do this by gardening or reading.
For the last twelve years I have worked at Foljambe Primary and had the pleasure of getting to know many wonderful families in this close and caring community. Most of my teaching career has been spent teaching the Early Years which is my absolute favourite age group. Learning is so exciting!! I like to engage the children with learning that is fun, interactive and creative.
Meet your Teaching Assistant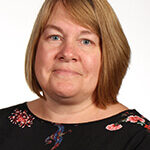 Hello! My name is Mrs French, and I am really looking forward to supporting you all in Class 1.
I have been working at Foljambe Primary since November 2022 and I am proud to be a part of such a lovely school! I can't wait for all the fantastic learning we will do, and look forward to helping you dream big, show pride and do your very best!
Throughout the year we will be going on a learning journey, it will start with us exploring the woodland around us and learning about the animals who live there. Then we will learn about people who help us in our community from the lollipop lady to the police. We will then move onto learning about traditional tales such as The Three Little Pigs etc. Next, we'll learn about growing plants/ vegetables which will leads us into talking about farms and farm animals, Then as we get closer to the Summer term we'll talk about holidays and the animals that live under the sea.
Class 1 had a great time taking part in Children in Need on Friday! 💛 They helped bake and decorate these yummy Pudsey biscuits and
Read More »